High Resolution Case Coding InkJet Printers for Coding on Boxes, Cases and Cartons
Applying high resolution inkjet codes to outer cases and cartons can eliminate the need for pre-printed boxes and labels, helping to reduce inventory, scrap and waste. With a range of printhead heights available, Videojet high resolution inkjet systems are designed to reliably print accurate, high quality, real-time alphanumeric codes, bar codes and graphics.


Videojet 2351 and 2361 Inkjet Case Coding Printers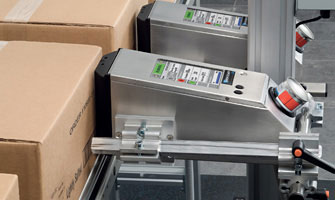 High resolution codes up to 70 mm (2.8 in) print height
Ink-based system eliminates need for labels on corrugate
Minimum intervention due to patented micro-purge process and unique filter design
What is large character marking?
Contact Us
Contact us Today for Free Consultation & Demo Samples:

South East Asia, Australia & New Zealand:
Mobile/ WhatsApp:+65 3138 2040

Videojet Thailand:
Mobile/Line:+66 92 272 0132

Videojet Vietnam:
Mobile/Zalo:+84 83 805 1033


Videojet Presence in SEA/ANZ Countries